About Us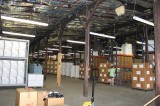 We exclusively offer all of our Dry Vapor Steam Cleaners from our manufacturers in Italy to our main distribution center in Virginia and steam cleaner distributors in the US and Canada. Through confidence and strong relationships built over time, we now offer the finest and only line of the highest quality dry steam cleaners on the market in the US today.
Our 19,0000 + square foot Full Product Service Center in Virginia serves not only our customers, but many other steam cleaners sold by the competitors! We are proud to offer the only product line that offers the versatility and exclusive designs available only from the Vapor Clean line of steam cleaners. We are enthusiasts and experts in the field and thrilled to be part of it!
We are a strong company with a great reputation in an exciting growing industry. Since 1997 we have been perfecting our products, skills and knowledge in the industry.
For the steam cleaners we also offer many items found only by Vapor Clean for your product from pads to chemical free mineral based spot cleaners.
We will provide information about ourselves and our products while helping you to decipher the overwhelming information available on the Internet and understand what is important.....and what is not.
Save
The code you entered is incorrect. Please try again.